Carlson Receives Bone Health Essentials Award from Taste for Life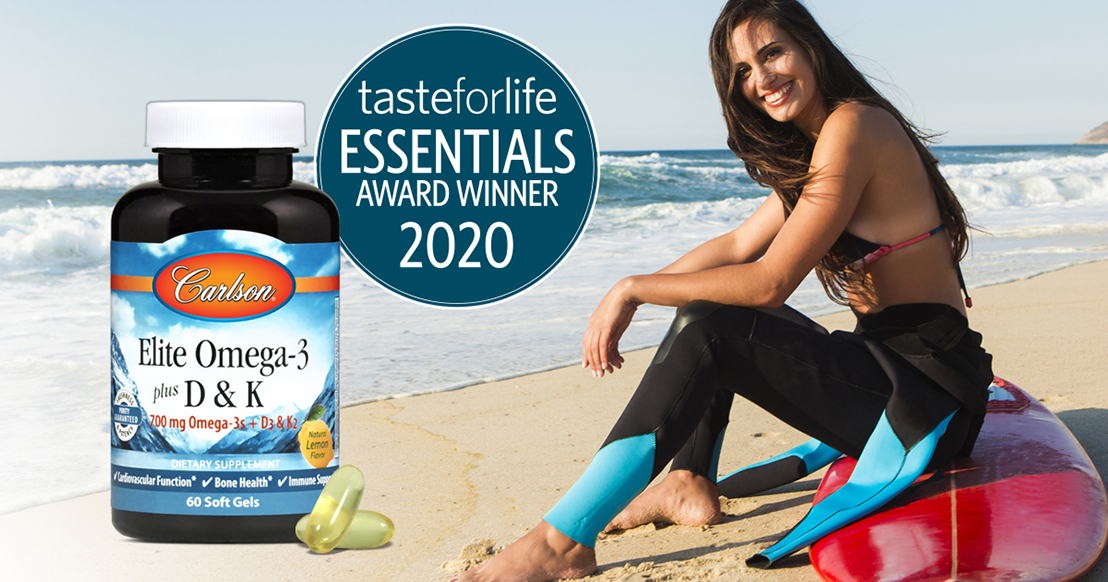 Carlson was recently honored with a Taste for Life Bone Health Essentials Award for Elite Omega-3 + D & K. A single soft gel provides 700 mg of omega-3s; 2,000 IU (50 mcg) of vitamin D3; and 90 mcg of vitamin K2 as MK-7 – all important nutrients for supporting optimal bone health.*
There are more than 30,000 published studies on omega-3s, making them some of the most studied nutrients in the world. The beneficial omega-3s EPA and DHA promote bone, heart, brain, vision, and immune health.*
Vitamin D3 is an important nutrient linked to many health benefits, including bone, teeth, muscle, and immune health. We can get vitamin D3 through food and the sun, but, despite the many ways of getting it, many are still deficient due to changing seasons, age, and sun protection.*
MK-7 is an essential nutrient our body can't make, which is why a supplement can be a great option. It plays an important role in binding calcium to the bone matrix.* It also supports cardiovascular system health by promoting healthy blood clotting and directing calcium into the bones.*
For more information about Kid's Chewable Iron, visit carlsonlabs.com/elite-omega-3-d-k.
Taste for Life Essential Award winners are chosen annually in several different categories by Taste for Life magazine. For more information about Taste for Life Essentials Awards, visit tasteforlife.com/essential-awards.
*This statement has not been evaluated by the FDA. This product is not intended to diagnose, treat, prevent, or cure any disease.