Carlson Receives an Immunity Essentials Award for Super Daily D3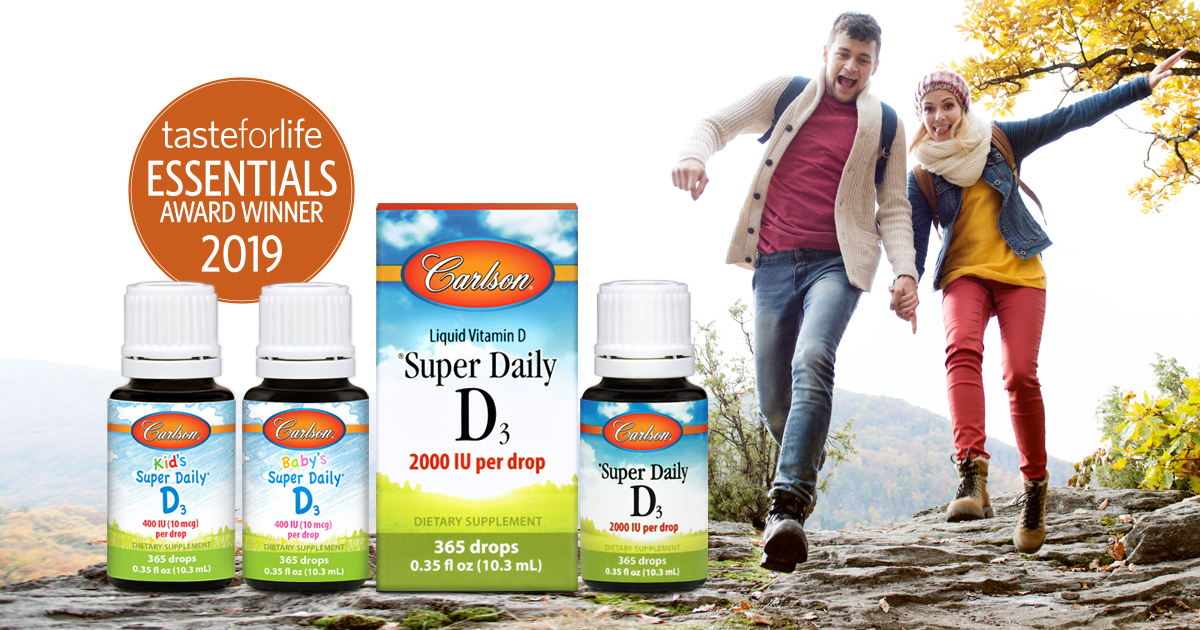 Carlson, a leading manufacturer of high-quality nutritional supplements, was recently honored with an Immunity Essentials Award for Super Daily® D3 from Taste for Life.
A single drop of Carlson Super Daily® D3 delivers the health benefits of vitamin D3 in a 1,000 IU (25 mcg); 2,000 IU (50 mcg); 4,000 IU (100 mcg); or 6,000 IU (150 mcg) dose for adults and a 400 IU (10 mcg) dose for babies and kids. Place a drop in food or a drink, or take it from a spoon.
Super Daily® D3 promotes teeth, bone, and muscle health; immune and cardiovascular system function; and calcium absorption. Super Daily® D3 drops are vegetarian, non-GMO, dairy-free, and unflavored, and are tested by an FDA-registered laboratory for potency and quality.
Making sure your family gets the right potency of vitamin D3 is easy. Carlson Super Daily® D3 offers a unique single drop delivery system that provides the exact dose of vitamin D3 listed on the label. This unique dropper technology also removes the risk of contamination, which can occur with standard droppers.
Taste for Life is a monthly magazine that focuses on natural health and wellness. Each year, Taste for Life honors innovative products in a variety of categories. For more information about Taste for Life Awards, visit tasteforlife.com/essentials-awards.
For more information on Carlson Super Daily® D3, visit carlsonlabs.com.