Carlson Omega-3s Earn ConsumerLab.com Seal of Approval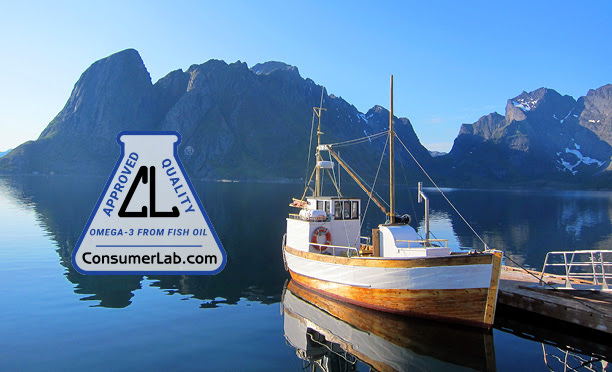 The Very Finest Fish Oil and Vegetarian DHA liquid and soft gels earned a seal of approval from ConsumerLab.com for their high quality, and Maximum Omega 2000 was named a Top Pick because of its superior quality and value. These Carlson omega-3s underwent potency tests to confirm they contain the ingredient amounts listed on the label and meet strict purity guidelines.
"Since we started importing our first omega-3s from Norway in the early 1980s, we have always been committed to providing the highest quality omega-3s at the best value," says Carlson President Carilyn Anderson. "Carlson omega-3s are third party certified and are tested by an FDA-registered laboratory for freshness, potency, and purity."
Carlson omega-3s have received certifications from IFOS (International Fish Oil Standards), IGEN (International GMO Evaluation and Notification), and FOS (Friend of the Sea), and Carlson omega-3 liquids have been honored with Superior Taste Awards from the renowned chefs and sommeliers at ITQI (International Taste and Quality Institute).
Carlson is also as committed to the environment as they are to the high quality of their products. The entire Carlson product line is recyclable and 100% plastic neutral. They offset the plastic in their products through investments in certified plastic removal projects taking place in the global waterways. To date Carlson has helped remove more than ¼ million pounds of plastic from seas and oceans.
The full Carlson omega-3 product line was also honored with the #1 Rated Omega-3 Products award from ConsumerLab.com for the fifth time. The results are based on their annual Survey of Supplement Users. (More info at ConsumerLab.com)
For more information, visit carlsonlabs.com/the-carlson-omega-3-difference.
Carlson Omega-3 Brochure
155L-FISH-OIL-BROCHURE - 314 Kb
Download