Carlson Introduces the Heart Healthy Multivitamin, Cardio Complete™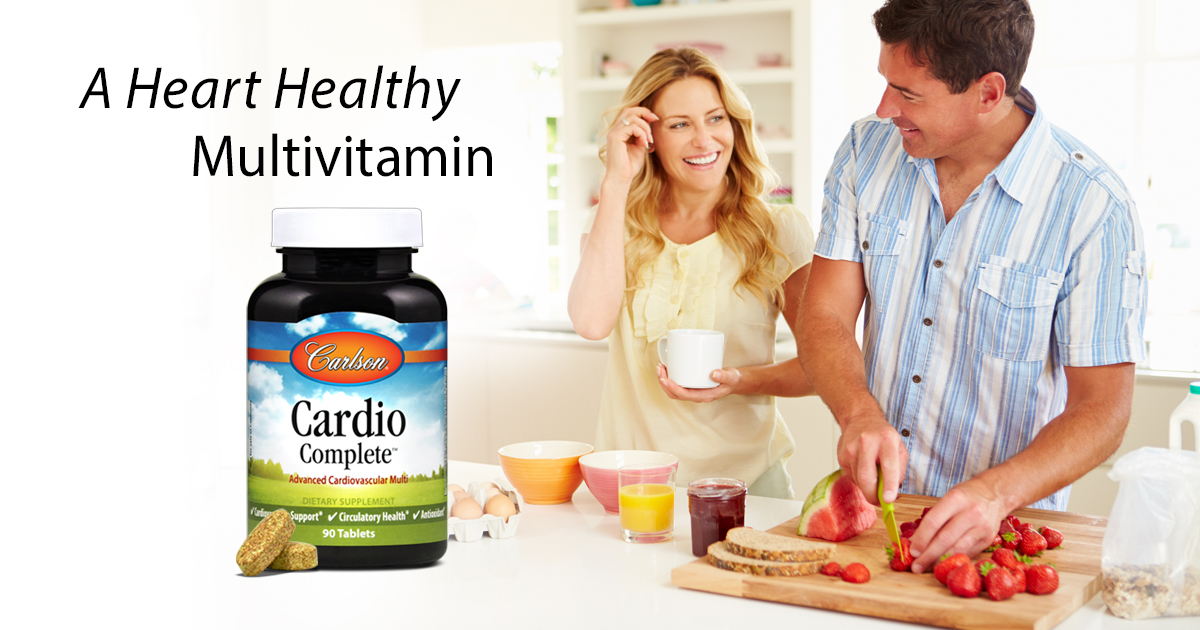 Cardio Complete™ is a complete multivitamin that provides a unique combination of nutrients to promote heart health. Powerful antioxidants combat free radicals, B vitamins help improve blood chemistry, essential minerals support cardiovascular health, and other important nutrients support healthy cellular energy and enhanced absorption.*
Some of the most beneficial nutrients in this formula include:
Vitamin A: in beta-carotene form to help fight free radicals*
Vitamin C: a water-soluble antioxidant, important for our defense system*
Vitamin D3: aids in calcium and phosphorus metabolism*
Vitamin E: a powerful antioxidant that promotes heart health*
B Complex Vitamins: help maintain healthy blood and normal homocysteine levels*
Calcium & Magnesium: promotes the electro-chemical balance of the heart and other muscles*
Boron: important for calcium and magnesium utilization*
Manganese: promotes energy production and fat and protein metabolism*
Chromium: helps convert glucose into energy*
CoQ10: important for the energy cycle of all cells*
Zinc: supports healthy immune system function*
Selenium & Copper: promotes antioxidant activity*
Potassium: an important electrolyte in cellular fluids*
L-Carnitine: an amino acid that plays a role in cellular respiration*
L-Arginine: an amino acid that's important for optimal blood flow*
For more information, visit carlsonlabs.com/cardio-complete.
*This statement has not been evaluated by the FDA. This product is not intended to diagnose, treat, cure, or prevent any disease.
420L - Cardio Complete.pdf
PDF - 1.2 Mb
Download