Carlson Introduces Maximum Strength Omega-3 Minis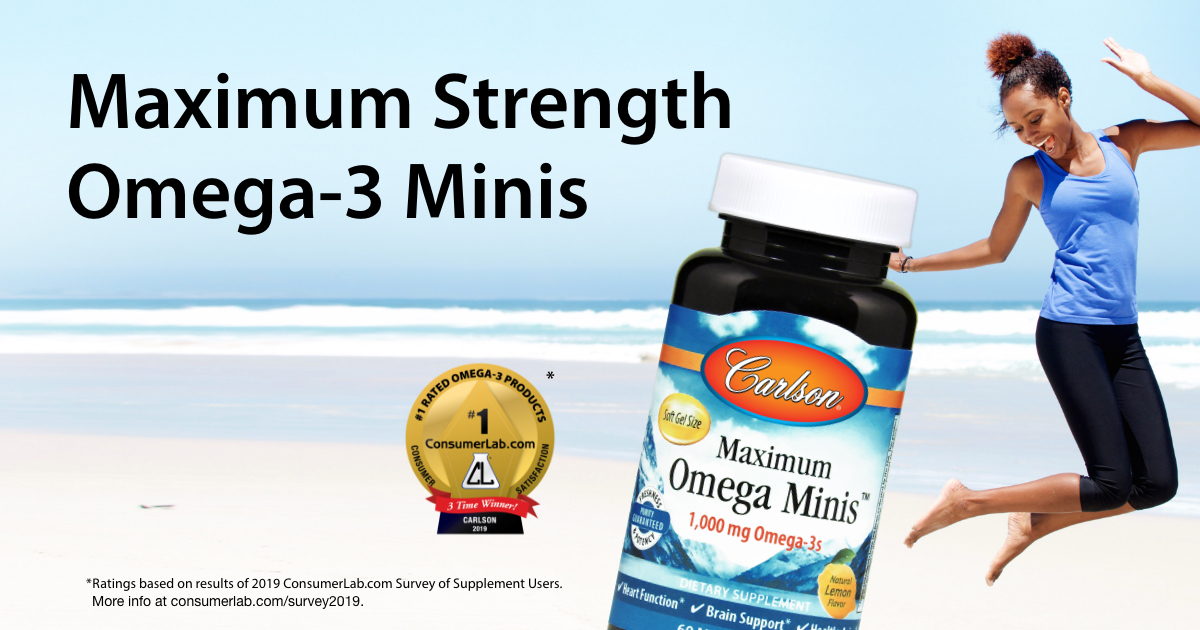 Carlson Maximum Omega Minis™ provide 1,000 mg of omega-3s per serving, including 600 mg of EPA (eicosapentaenoic acid) and 400 mg of DHA (docosahexaenoic acid) in easy-to-swallow mini soft gels. Maximum Omega Minis™ are IFOS™ and IGEN™ non-GMO certified, and are tested by an FDA-registered laboratory for freshness, potency, and purity.
The American Heart Association recommends eating at least two 3.5-ounce servings of fatty fish per week in order to get an adequate amount of omega-3s. Fatty fish, including salmon, mackerel, and sardines are a great source of omega-3s; however, most of us don't consume enough fish in our diet to reach the recommended intake, so a supplement may be a great option. Maximum Omega Minis™ support heart function, brain health, and healthy aging.*
To ensure maximum freshness, Maximum Omega Minis™ are closely managed from sea to store. We source the highest quality, deep, cold-water fish using traditional, sustainable methods. Our fish are then transported to a highly regulated facility for processing and purification. Maximum Omega Minis™ are encapsulated in mini soft gels and, like all Carlson omega-3s, freshness, potency, and purity are guaranteed.
Support your body with the omega-3s it needs for optimal health with Carlson Maximum Omega Minis™. For more information, visit carlsonlabs.com/maximum-omega-minis.
*This statement has not been evaluated by the FDA. This product is not intended to diagnose, treat, cure, or prevent any disease.
184L - Maximum Omega Minis.pdf
PDF - 1.9 Mb
Download