Carlson Introduces Kid's Immune Boost Gummies, the Ultimate Antioxidant Blend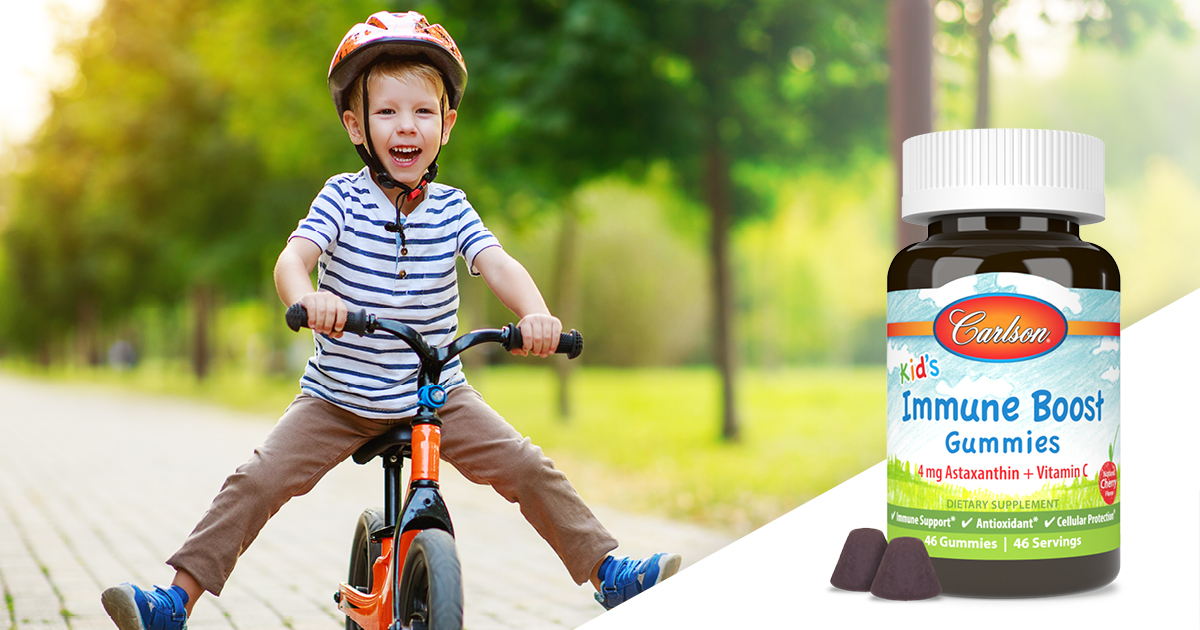 Carlson introduces Kid's Immune Boost Gummies, delicious, naturally cherry flavored vegetarian and non-GMO gummies for immune support.* A single gummy provides 4 mg of astaxanthin and 100 mg of vitamin C.
Astaxanthin and vitamin C work together to promote healthy immune system function and to provide powerful antioxidant support. Astaxanthin is one of the most potent antioxidant carotenoids and plays an important role in protecting cells from oxidative damage. Because it can cross the blood-brain and blood-retina barriers, it can deliver antioxidant protection to our eyes, brain, and nervous system. Astaxanthin also supports endurance and cardiovascular health and promotes healthy skin.*
Vitamin C is a water-soluble antioxidant that helps scavenge free radicals, provides cellular protection, and regenerates other antioxidants. The synergistic blend of astaxanthin and vitamin C offers whole body health benefits and can help support a healthy balance between oxidative stress and antioxidant defense within our body.*
Carlson Kid's Immune Boost Gummies are made with Astaferm™, the most advanced, state-of-the-art, sustainable source of high-quality astaxanthin. It's the first fermented astaxanthin, derived from Phaffia yeast, and is fast-acting and highly absorbable.
For more information, visit carlsonlabs.com/kids-immune-boost-gummies.
*This statement has not been evaluated by the Food and Drug Administration. This product is not intended to diagnose, treat, prevent or cure any disease.
487L2_Kids Immune Boost Gummies Lit Card.pdf
PDF - 811 Kb
Download