Carlson Introduces a Liquid Blend of Omega-3s, Vitamin D3, and Vitamin K2 as MK-7
Omega-3 + D & K promotes cardiovascular, bone, and immune health.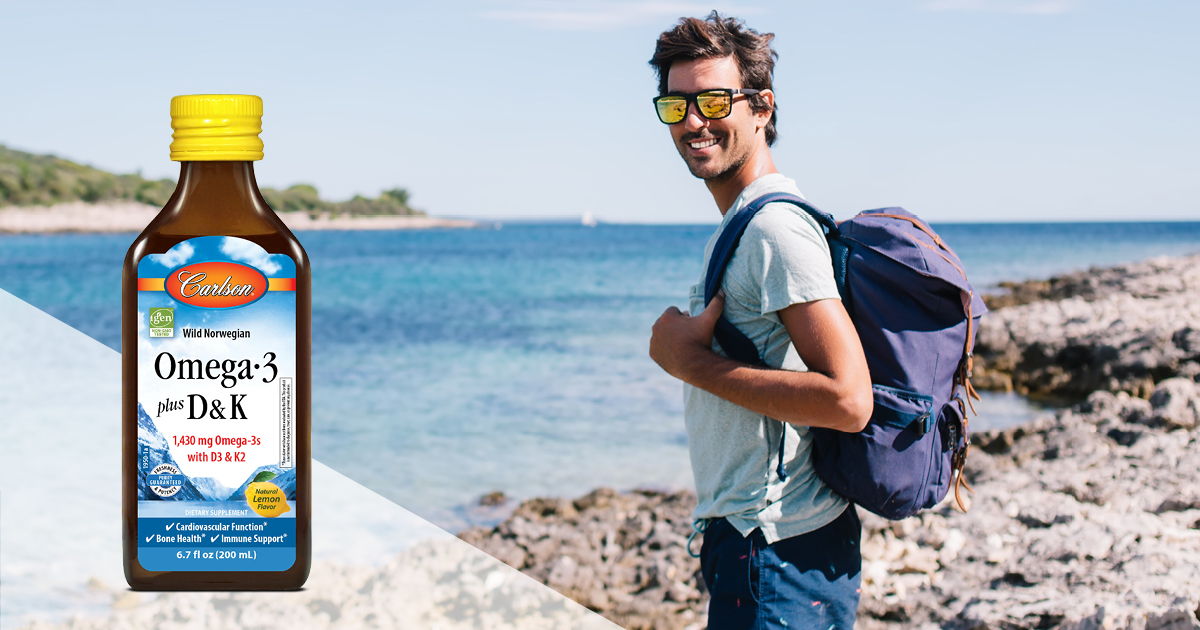 Omega-3 + D & K liquid in delicious lemon flavor provides 1,430 mg of omega-3s; 2,000 IU (50 mcg) of vitamin D3; and 90 mcg of vitamin K2 as MK-7 in a single teaspoon. It's also FOS, IFOS, and IGEN non-GMO certified.
Omega-3s are found in fatty fish, such as salmon, mackerel, and sardines. Since many of us don't eat a lot of fish in our diet, a supplement can be a great option. Omega-3s support heart, brain, vision, joint, mood, immune, and skin health.*
Vitamin D3 is an important nutrient linked to many health benefits, including bone, teeth, muscle, and immune health.* It's a vitamin we can get through food and the sun, but many are still deficient due to changing seasons, sun protection, and skin tone.
Vitamin K2 as MK-7 plays an important role in binding calcium to the bone matrix. It also supports healthy blood clotting and cardiovascular system health.* Many of us do not get enough MK-7 through diet alone, since the best food sources are organ meats and fermented soybean products.
To ensure maximum freshness, Omega-3 + D & K is closely managed from sea to store. Carlson sources the highest quality deep, cold-water fish using traditional, sustainable methods. And like all Carlson omega-3s, Omega-3 + D & K is tested by an FDA-registered laboratory for freshness, potency, and purity.
For more information, visit carlsonlabs.com/omega-3-d-k.
*This statement has not been evaluated by the FDA. This product is not intended to diagnosed, treat, cure, or prevent any disease.
195L-Omega3-DK Lit Card.pdf
PDF - 1.4 Mb
Download