Carlson Features New MCT Oil & MCT & Omega-3 at Expo East 2019 Booth #3435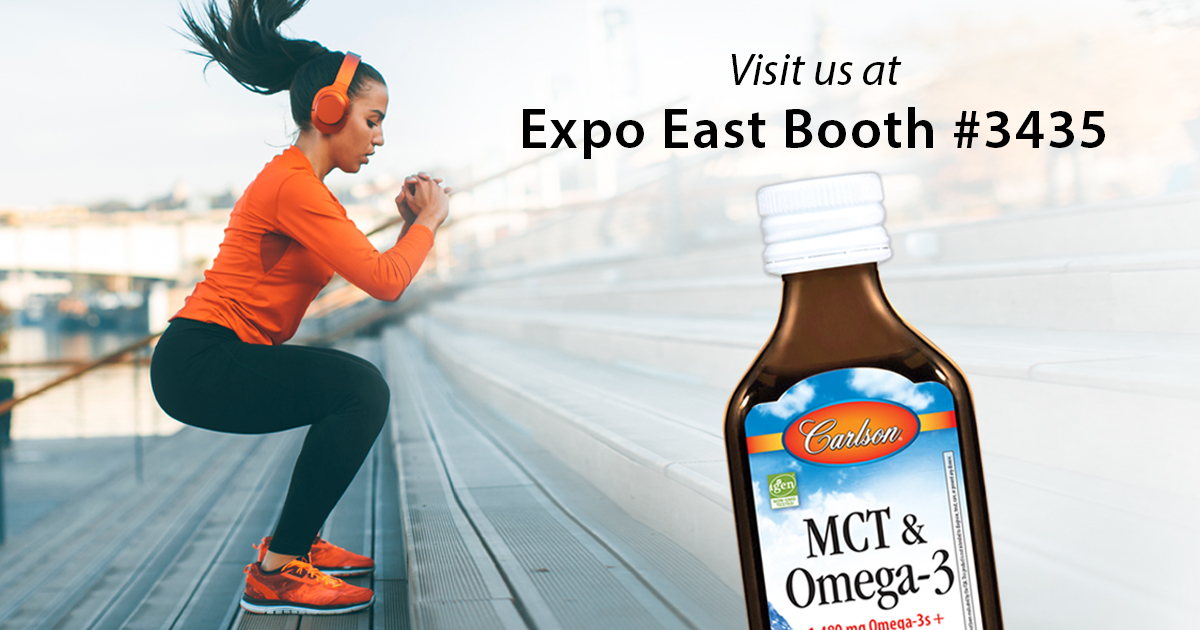 Stop by Carlson Expo East booth #3435 September 12 through 14 in Baltimore, Maryland to save up to 25 percent off of show specials, 15 percent off of all orders placed at the show, and special discounts on displays. Carlson will be offering free samples, handing out giveaways, and showcasing their new products, including MCT Oil, MCT & Omega-3, and omega-3s on the go.
Carlson MCT Oil is derived from pure, high-quality coconut oil and provides 14,000 mg (14 g) of medium-chain triglyceride (MCT) oil, featuring caprylic and capric acids, in a single tablespoon. If you're looking for even more of a health boost, Carlson combines MCT oil with their award-winning omega-3s in MCT & Omega-3. MCT & Omega-3 provides 1,480 mg of Omega-3s and 9,200 mg (9.2 g) of MCTs in a single teaspoon to promote healthy energy production; fat metabolism; and heart, brain, and joint health.
Whether at the gym, traveling, or just heading to work, you can take your omega-3s with you. Carlson now offers convenient single-serving liquid packets and soft gel packs.
The Very Finest Fish Oil™ in award-winning lemon or orange flavor and Olive Your Heart® omega-3 olive oil in basil, lemon, garlic, or natural flavor are available in single-serving liquid packets. Like Carlson omega-3 glass bottles, to ensure maximum freshness, the liquid packets are packaged in Norway with a nitrogen flush to remove oxygen and to help prevent oxidation. The liquid can be taken directly from the packet or a spoon, or can be added to smoothies, dips, or salad dressings.
Maximum Omega 2000™ is offered in a 30-soft-gel travel pack and in a retail display featuring 10 – 10 soft gel travel packs. The Very Finest Fish Oil™, Olive Your Heart®, and Maximum Omega 2000™ on-the-go packs are IFOS™ (International Fish Oil Standards) and IGEN™ (International GMO Evaluation and Notification) program certified, and, like all Carlson omega-3s, are tested by an FDA registered laboratory for freshness, potency, and purity.
Carlson will also be showcasing Maximum Omega Minis™, with 1,000 mg of omega-3s in every mini soft gel serving; Totally Zen, with GABA, L-theanine, and B vitamins; adults and kid's Chewable Iron in delicious natural strawberry flavor; and Nutra-Support® Digestion with 1,200 mg of lecithin (non-GMO).
For more information, visit www.carlsonlabs.co/expo-east-2019.
Expo East Show Specials Flyer
PDF - 6.3 Mb
Download