Carlson Announces New Size and Strength of Super Daily® D3 + K2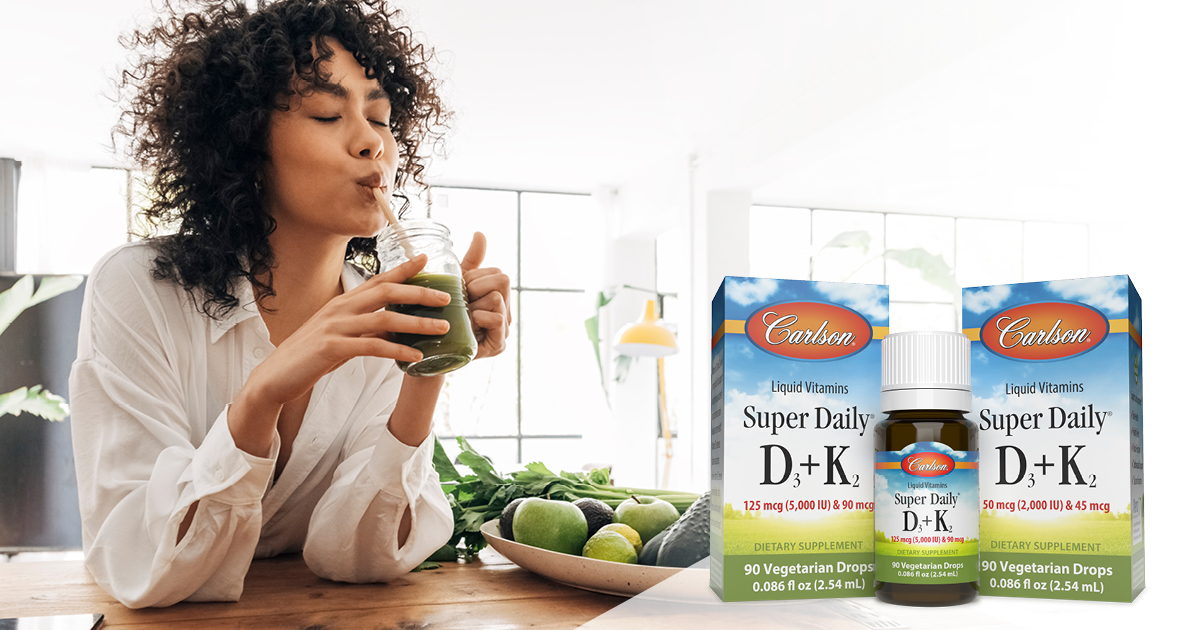 Carlson Super Daily® D3 + K2 convenient, concentrated, vitamin D3 and K2 as MK-7 drops are now available in a new size and strength. Super Daily® D3 + K2 2,000 IU (50 mcg) & 45 mcg, already available in a 360-drop (10.15 mL) bottle, is now available in a 90-drop (2.54 mL) bottle. It's also available in a new strength: 5,000 IU (125 mcg) & 90 mcg.
Super Daily® D3 + K2 combines two of the most important nutrients to support optimal bone, teeth, and cardiovascular system health. Vitamin D3 is important for calcium transport and absorption, and MK-7 is critical for the formation of a strong bone matrix. MK-7 also supports healthy blood clotting, arterial health, and cardiovascular system function.*
The MK-7 found in Super Daily® D3 + K2 is natural and highly bioavailable. The drops are non-GMO, dairy-free, vegetarian, and unflavored. Carlson Super Daily® drops offer a unique single drop delivery system that allows perfectly measured drops to be released. Simply turn the bottle upside down, and wait a few seconds for the drop to be dispensed. Place the drop(s) in food or a drink, or take it directly from a spoon. Carlson Super Daily® dropper technology removes the risk of contamination that can occur with standard droppers.
All Carlson products are tested by an FDA-registered laboratory for potency and quality. For more information, visit carlsonlabs.com.
* This statement has not been evaluated by the FDA. This product is not intended to diagnose, treat, cure, or prevent any disease.