An Apple A Day… Carlson Introduces a New Flavor of Award-Winning Cod Liver Oil
The #1 Cod Liver Oil in the US is now available in natural green apple flavor.**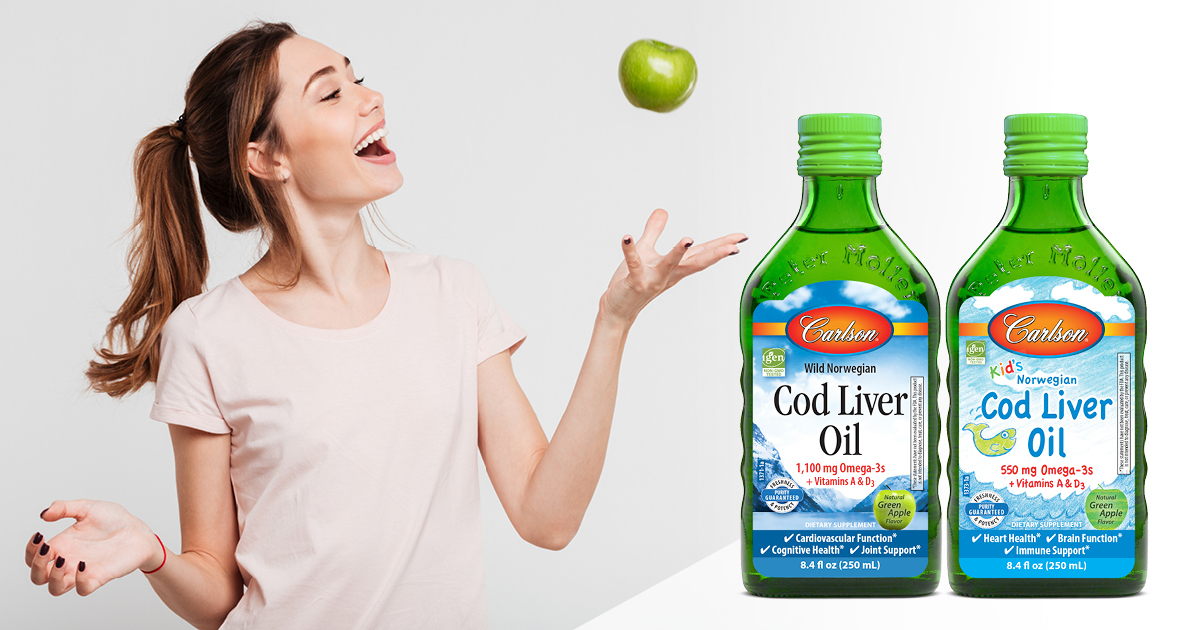 Carlson award-winning Cod Liver Oil is now available in new, delicious, natural green apple flavor for adults and kids. Cod Liver Oil provides 1,100 mg of omega-3s, plus vitamins A and D3 per serving for adults and 550 mg of omega-3s, plus vitamins A and D3 for kids. Cod Liver Oil promotes heart, brain, vision, joint, immune, and overall health.*
To ensure maximum freshness, Carlson Cod Liver Oil for adults and kids is closely managed from sea to store. We source the highest quality Arctic cod off the coast of Norway using traditional, sustainable methods. The same day they're caught, our cod are transported to a highly regulated Norwegian facility for processing and purification. Carlson Cod Liver Oil is bottled with a touch of vitamin E and is given a nitrogen flush to remove oxygen and to prevent oxidation.
Carlson Cod Liver Oil for adults and kids is certified by the International Fish Oil Standards (IFOS) program and the International GMO Evaluation and Notification (IGEN) program. And like all Carlson omega-3s, it's tested by an FDA-registered laboratory for freshness, potency, and purity.
Learn more: Cod Liver Oil | Kid's Cod Liver Oil
*This statement has not been approved by the FDA. This product is not intended to diagnose, treat, cure, or prevent any disease.
**SPINS Data
135L3 - Cod Liver Oil - Green Apple Lit Card.pdf
PDF - 1.6 Mb
Download